Elise is an American voice actress who works for various anime series at Funimation and New Generation Pictures. She provided voices for a number of English versions of Japanese anime series, such as "Pan" from Dragon Ball GT.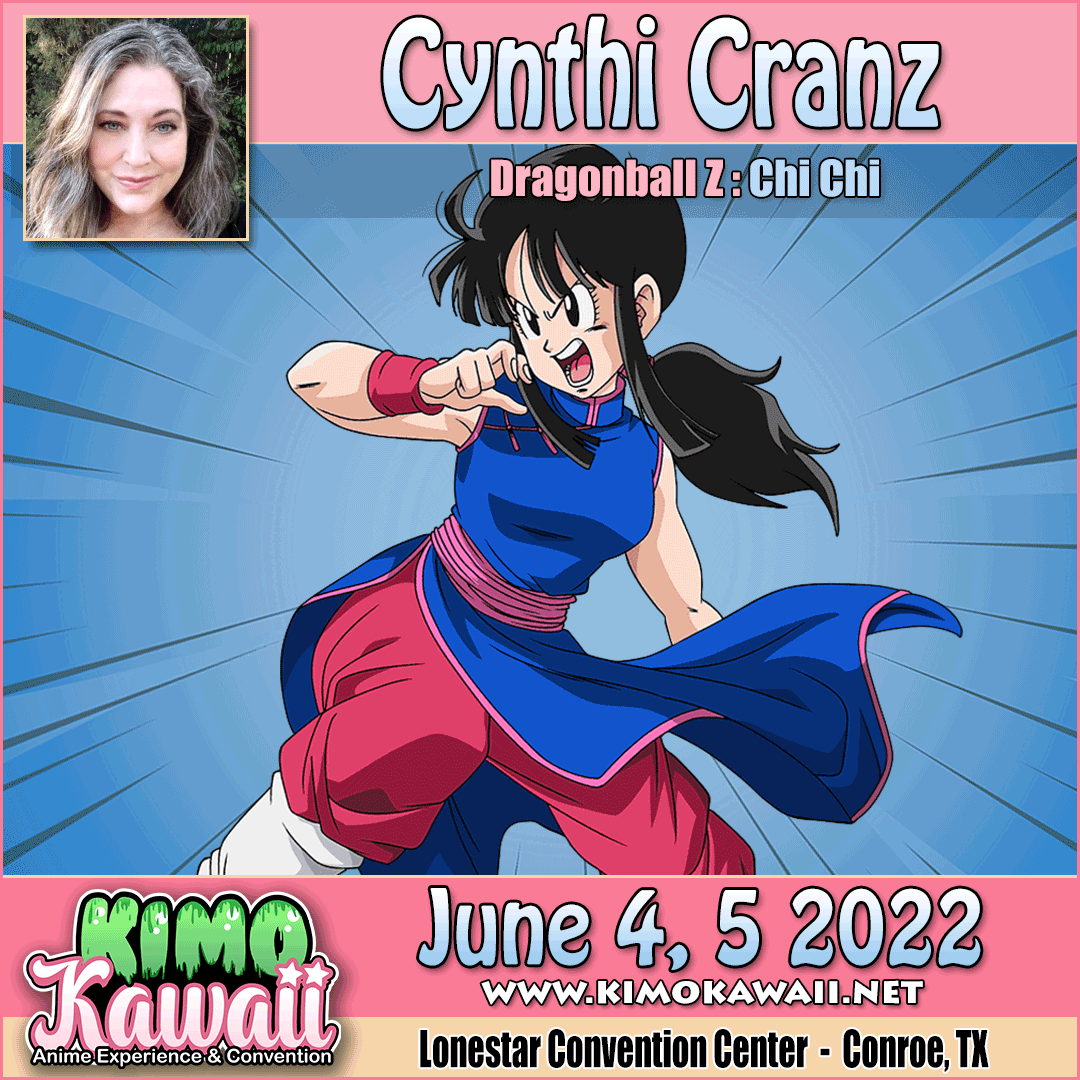 Cynthia Cranz is an American voice actress who works for anime series at Funimation, Sound Cadence Studios, and OkraTron 5000. She is best known as the voice of Chi-Chi in the Dragon Ball series.
Chris is an American voice actor who works on anime series at Funimation. His major roles include Mr. Satan in Dragon Ball, Will Powers in Ace Attorney (anime), and Arlong in the Funimation dub of One Piece. In video games, he voices Mr. Torgue in the Borderlands series.
Josh Martin has been in the voice-acting business for over 20 years, and in that time, he's lent his talents to some of the most popular anime franchises around. He's best known as the voice of Majin Buu from Dragon Ball Z and Commander Red from the original Dragon Ball. He's also played memorable characters in Lupin the 3rd and One Piece. In addition to his work in anime, Josh has also written and produced short films, and he's a member of the Original Beastie Boys Tribute Band Rhymin' N Stealin'. Josh is not only a very talented voice actor and hot on the mic, but he brings a fun energy into the room wherever he is. Be sure to get and autograph from him and his popular best friend from the show and real life Chris Rager who is the voice of Mr. Satan!
Lana Marie has been cosplaying as early as 2004, She's a bit of a human chameleon. Lana is an Actor, Voice Actor, Cosplayer, huge Mortal Kombat fan, Retrogame lover and Sci-fi nerd.
Her Costumes range from video games, comic books, anime, sci fi/fantasy films and her own designs. She has over 50+ costumes handmade.

Lana has been a Cosplay guest and Contest judge for numerous conventions through the years, as well as her work has been published in several articles and magazines.

" I've watched the community grow and change through the years. I always look forward to seeing new ideas and creations evolve in the community that I wouldn't have imagined before. I love to share and chat with cosplayers and see their passions come to life as well as what creative ideas they show, I want to provide help and encouragement. We should be there for each other because we have the same passion and I'd like to help our community grow together.
I have always enjoyed bringing characters to life, through my acting or costume design. I do the research, gather materials, and put in blood, sweat, and tears. When it all comes together, it's like magic!
When people see my costume and tell me how excited they are and how inspired they feel, it makes all the effort worth it."
I'm a Makeup Artist from Venezuela bringing my unique, sexy and exotic trends into the USA, with 23 years of experience in the makeup industry, and 6 Years' experience in the Body Paint and SFX industry; I can definitively provide individuals with a whole range of Makeup Looks from the traditional makeup all the way to bold and exotic, or transform them into any original or Movie Character with my Body Painting and SFX skills. I entered the Cosplay Body Paint world back in 2016 thanks to my friend Momo, who requested me to do a full body paint to turn him into Marvel's Villain Carnage. After performing his body paint I was so inspired that I continued recreating many of my favorite Movie Characters one after another to prove to myself that I could recreate any of them! Now I'm a well known Cosplay Body Painter in the local Houston Cosplay Community having taught many Panels in conventions like Comicpalooza, Anime Matsuri, Fandemic tour, Delta H and more to come!
PeachyandFairy is a collaboration of cosplay sisters, @peachypie_cosplay and @fairylafey, who are both based in Houston TX. They lovingly call each other "cosplay sisters" as they not only share their passion for cosplay but also share the same birthdays, dress and shoe size!

Fairylafey has been cosplaying since 2016. She has always been an anime fan and is very happy to embrace her passion with others. Fairy is a Latina actress who loves to inspire and encourage others with her favorite hobby. She owns a face character company to spread her touch of magic with the little ones.

Peachypie_cosplay has been cosplaying since 2018. She is an anime and itasha car enthusiast who loves to share this love with others. Cosplay is a vehicle for her to join charity events to bring smiles to kids, young and old. She actively organizes cosplay meetups, cosplay events, hosts panels and collaborations with the cosplay and Itasha communities. She is the founder of @houston.itasha which showcases a variety of anime wrapped vehicles in the Houston community and beyond.

@peachyandfairy believes in the value of COMMUNITY over COMPETITION and they enthusiastically collaborate with fellow cosplayers and attend various events in order to bring the cosplay community together!
Adachi Trieu is a cosplayer, streamer, and artist. She has a passion for all things anime and gaming. Adachi carefully crafts her cosplays by thoroughly examining her characters. This could be from concept art to the actual videos of the characters in action. Adachi is a self taught artist who's always looking for more and loves to share her craft with others. Adachi recently won the Azur Lane Cosplay contest in 2021 as Atago. She has also appeared in many North Carolina Conventions as a guest cosplay judge and panelist. Outside of cosplay she has the biggest sweet tooth! You'll more than likely find her in her natural habitat of chowing down on sweets and goodies. Have no fear, just say hi! She'd love to meet you!
Ian Syder-Blake is known as the drag dad of Houston, and he has made it his mission to create a stage for every AFAB performer who wants to explore art and gender. Ian has created multiple shows that bring out eclectic, excited crowds, along with classes and competitions designed for Kings and AFAB performers. Currently Mister Texas USofA MI Classic, this King works to create safe, fun spaces where everyone is welcome and all Drag is loved.
Carmina Vavra is known as the nerdiest queen in Houston. From original songs about gaming and pop culture to unforgettable cosplays, this entertainer is one for the record books! Carmina directs and hosts multiple shows, has competed and won competitions, and mentors the younger generation of entertainers.
Damien is famous for being the original alternative King in Houston, along with an award-winning makeup artist and performer. WIth multiple competition wins under his belt, each time he hits the stage is a new experience that you won't soon forget. Creative and terrifying (in the best way), this King is one you can't stop watching!
Brixlee Coven started her career as a professional cheerleading coach, and brings the skills she developed to every show she's a part of. Her ability to make you laugh, cry, or scream with excitement is something you won't want to miss! A show host and director for multiple successful recurring events, Brixlee loves to share her knowledge with newer Kings and Queens at every opportunity.
Senpai has been performing cosplay and specialty acts, both live and lip sync, for many years and has made a name for himself in the entertainment industry. This Drag King is one of the most energetic lip sync artists you can see, and their performances will bring any crowd to its feet!
Stacy
Brown
Dulce
Aguilar
Ray
Wood
Venus
Tran
Robot
Space Jelly